F-Free® for Fluoride treatment
Principle
F-Free is based on precipitating Fluorine as Calcium fluoride by dosing Calcium salt. And after removing Calcium fluoride, residual Fluoride can be absorbed by Calcium precipitate by dosing agent for fluoride removal, then settle together. Generated Calcium precipitate is reused for Calcium source to precipitate calcium fluoride. Therefore, the sludge originated from agent is not generated.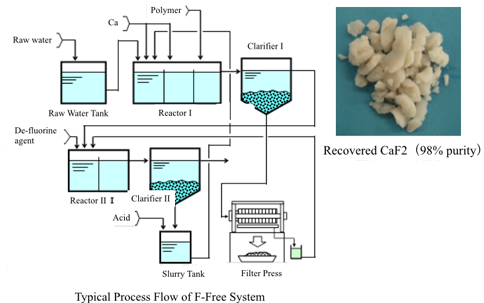 Advantage
Basically, F-Free is the same method as the existing one in terms of using the precipitation method. But, it has the following advantages.
It can remove Fluoride to less than 5mg/L which is much less than the existing method.
It can remove both Fluoride and Calcium simultaneously.
It is suitable for combination with water recycle system by using RO.
Minimum amount of the sludge can be generated.
It can recover the high purified Calcium fluoride.
It can be installed in the existing water treatment system.
Very small installation space is required for the new equipment.
Achievements
Waste water treatment for Pickling process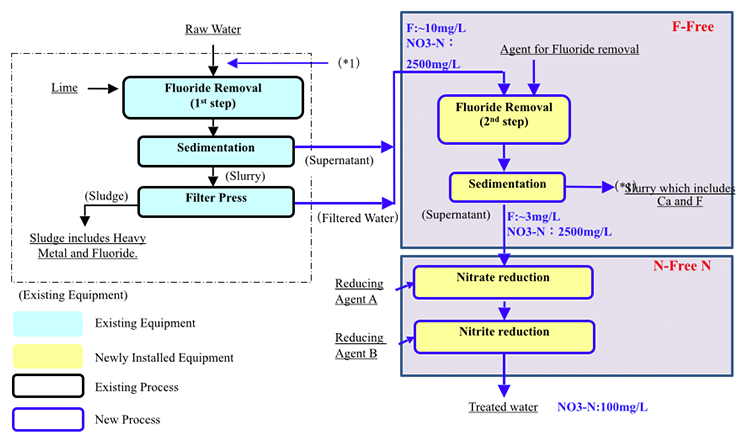 This is the achievement which is applied to the waste water treatment of pickling.
The waste water includes Nitric acid, Hydrofluoric acid and heavy metals.
We applied F-Free for removing Fluoride and Calcium, and N-Free N for removing Nitrate-nitrogen after removing heavy metals and Fluoride by customer's equipment.